Want to get your company involved in the fight against hunger in Southern Nevada?
Three Square Food Bank will work with you to develop fun and creative ways to practice corporate social responsibility (CSR). Below are a number of ways your organization — large or small — can join us to help feed our hungry neighbors.
Pack & Give Back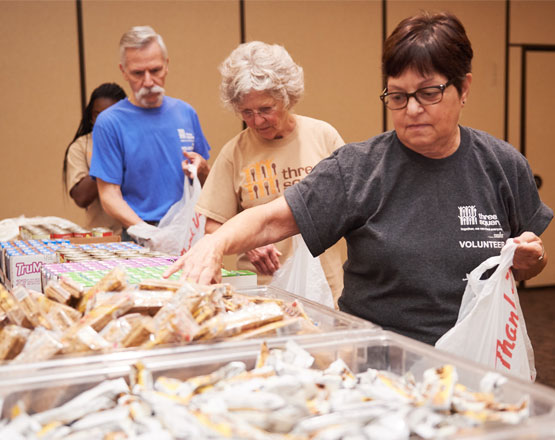 A Volunteer Experience Brought to You at a local upcoming convention, training or meeting. We'll provide boxes to pack for feeding struggling families, bags to assemble for feeding hungry children, or cartons to compile for hurting seniors in our community. But there are plenty of other ways to engage and to exercise your corporate social responsibility. We'll work with you to figure out the best plan for you and your company. To learn more, please reach out to Ryan Widdis at 702 644-3663 x317 or at This email address is being protected from spambots. You need JavaScript enabled to view it..
Sponsor an Event or Program
Make your company's commitment to the fight against hunger visible. Put your business's name behind one of our events or programs. Opportunities include Las Vegas Restaurant Week, Hunger Action Month and various matching gift campaigns.
Office Food Drive
When you organize an office food drive, you'll energize your employees and make them proud to work for a company that gives back to the community. Your food drive leaders will first tour Three Square to learn more, and then they'll pick a time and location(s) for the drive. Visit our food drive page to learn more.
Workplace Giving
It's easy to organize a workplace giving campaign. You can provide an incentive for giving and multiply the generosity of your employees through matching gifts. Employees will feel good about themselves and about your company's support of the community.
Volunteering
Gathering with co-workers for a volunteer project is a great way to build solidarity, morale and teamwork. Your group can help in the warehouse, sort donations, pack bags or box lunches for schoolchildren and more. You can volunteer on an ongoing, periodic or one-time basis. Visit our volunteer page for details.
Food Donations
If you're in the food or grocery industry, you can become a Food Rescue Partner and donate perishable items that are close to code. Three Square's refrigerated trucks will pick up your items and deliver them to one of our distributors. Please contact Joslyn Mendez at 702 644-3663 x361 or This email address is being protected from spambots. You need JavaScript enabled to view it. for more information.
Donate Goods or Services
Got a bunch of extra boxes taking up space? Other stuff that might be of use to a food bank and those we serve? Could you drive one of your company's trucks to help us during especially busy times, like the holidays? If you have a service that might help, let us know!
Financial Donations
We're very efficient with donations. Every $1 given provides three meals for hungry neighbors, and $.94 cents of every $1 goes toward food distribution. Financial support can be in the form of a cash gift, a foundation grant, employee matching or a matching challenge grant.
Contact Us